Did your veterinarian refer you?
Let us first say "Welcome!"
We want to introduce ourselves to you, and help you feel comfortable working with us.
Here's how we help: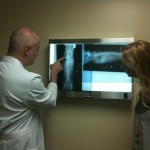 Dr. Pacchiana reviewing radiographs with a client.
Download Post-Op forms: You can download all the forms you need for pre-op and post-operative care for your dog or cat.
Meet Philip and Amy: Meet the surgeon and anesthetist that will be caring for your dog or cat.
Working with us: We strive to make your pet's procedure as painless as possible…for both of you.