Amy Pacchiana, LVT
Originally from Minnesota, I attended veterinary technical school at Medical Institute of Minnesota inBloomington, MN.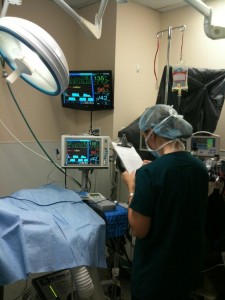 Amy monitoring anesthesia
Upon graduation, I completed my internship at Apache Animal Hospital in Fridley, MN.  I passed the licensing examination and have been a licensed veterinary technician since 1998.  I was the head technician at Wolf Animal Hospital in Bloomington, MN for a short time before I decided that I wished to become a specialty veterinary technician.
I held the position of Senior Veterinary Technician in the Department of Veterinary Dermatology for 4 years and in the Department of Veterinary Ophthalmology for 2 years at the University of Minnesota College of Veterinary Medicine.
I was a Surgical Veterinary Technician at Medtronic, in Anoka, MN where I participated in cardiovascular stent and pacemaker development.
I moved to the east coast in 2004 and was the head technician at Animal Allergy and Dermatology in Manhattan, NY for 5 years.  Following this, I worked at Fifth Avenue Veterinary Specialists in the Anesthesia, Internal Medicine, Intensive Care Unit, and Surgery departments.
In my years as a veterinary technician, I have worked with thousands of animals.  Having worked side by side with board-certified veterinarians in the fields of Anesthesia, Critical Care, Dermatology, Internal Medicine, Ophthalmology, and Surgery, I have been exposed to a wide variety of specialty veterinary practice.  I have extensive experience in gaining intravenous access in critical animals, monitoring and caring for intensive care unit patients, and administering and monitoring anesthesia in dogs and cats.