We're pet owners, too
We treat your pet like own own.
Veterinary medicine has been compared to the field of pediatrics in that our patients cannot always conveytheir symptoms to us nor can they make decisions regarding their treatment.
Having operated on many of my own animals over the years, I understand that you want the best for your pet.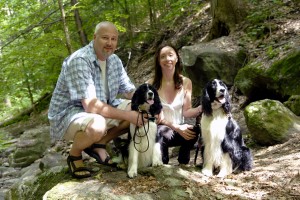 Dr. Pacchiana and Amy with their English Springer Spaniels: Frito and Piper
I recommend the treatments that I myself would choose for my own pets- whether these treatments are medical or surgical.  And we will treat your pet like our own.